As a professional photographer, I am continuously traveling and need to lug expensive gear everywhere with me. I go out to shoot on a daily basis, whether for corporate assignments, workshops or while on a trip. This makes it quite important for me to know how to pack my photography equipment so that it is not only protected during my day to day shoots and travels, but also easily accessible when I need it.
My photography gear is a source of income to me hence I am very selective in what products I use. After discovering the f-stop Gear products, I quickly fell in love with the brand. I have been using their equipment since and am now also a brand ambassador for them.
What sets f-stop Gear apart from all other manufacturers is their focus on extreme outdoor activities offering backpacks that are not only functional but also durable. Specializing in architecture and landscape photography, I often find myself in tight spaces or hiking for kilometers on end. f-stop Gear offers camera bags that are comfortable during these hikes and make it easy for me to pack my equipment so that it is well organized and easily accessible.
Equipment List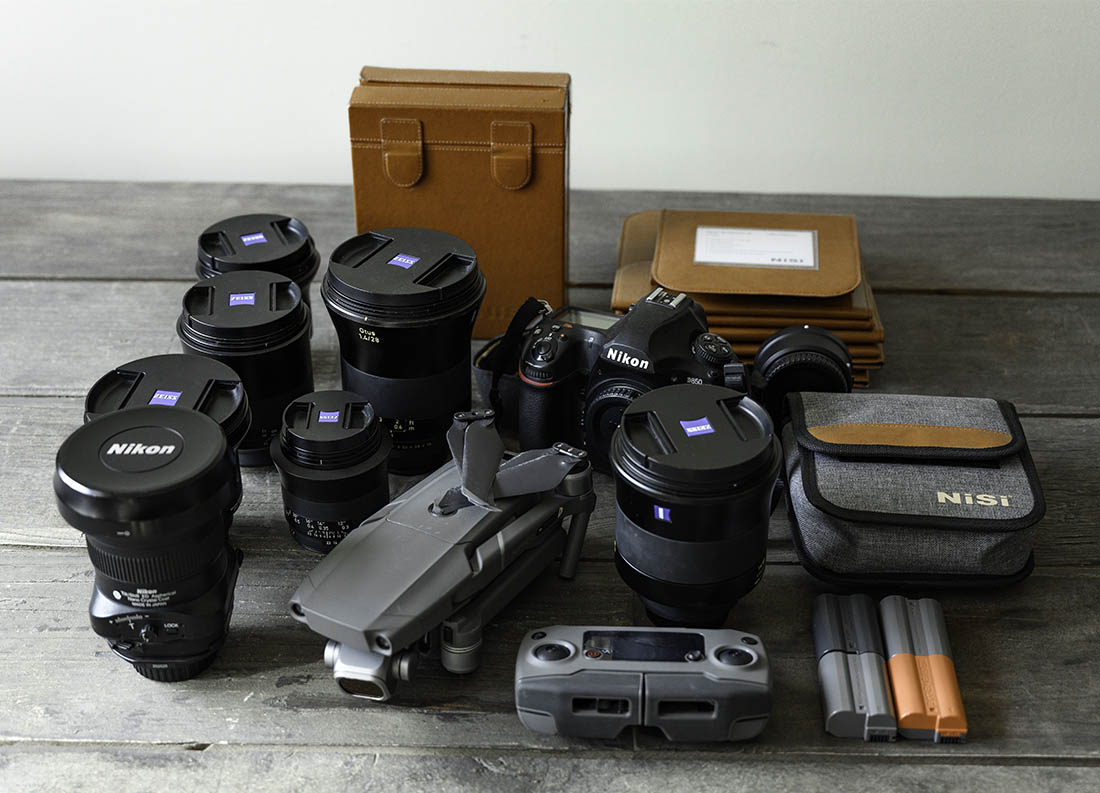 Nikon D850 & Nikon Z7
Zeiss Milvus 15mm, 18mm, 35mm, 50mm, 85mm & 135mm
Zeiss Otus 28mm & 85mm
NIKKOR 14-24mm, NiKKOR PC Tilt-Shift 19mm & Nikkor 24-70mm
Nisi Filter S5 150mm System & V6 100mm system
Nisi ND Filter 10 Stop, 3 Stope, 6 Stop, 15 Stop 150mm
6-8 Batteries, cable release, batterie charger & portable Hard drives
Tons of cables, tools, cleaning kits etc..
Gitzo Tripod, Really Right stuff BH-55 ball-head & Travel Clamp
DJI Mavic 2 Pro & 3 batteries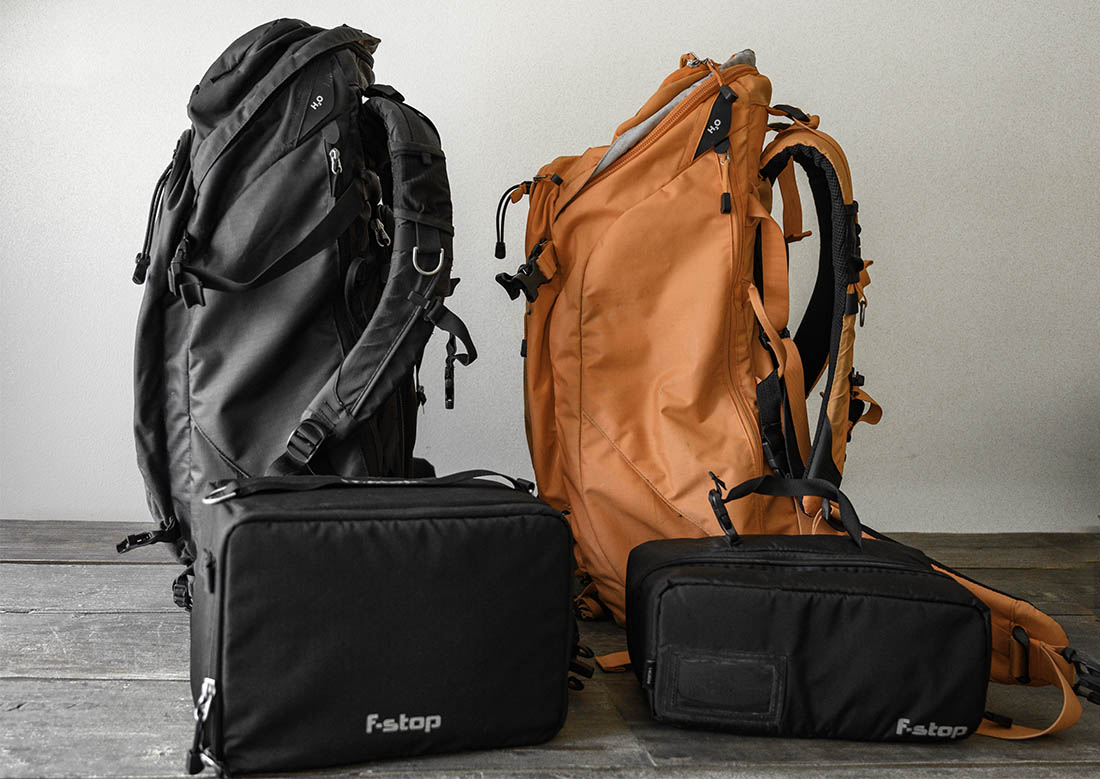 SUKHA - The Bag
In my ten plus years as a full-time outdoor photographer, I have used many camera bags available on the market. From my experience, I can say that nothing comes close to how well the f-stop bags carry the gear. The bags are designed with accessibility, durability, comfort, and lifestyle in mind to make your life as a photographer easier.
My first choice for an f-stop Gear backpack is the Sukha model from the mountain series. It has 70 liters of internal storage that is more than enough for all my needs. Smaller models such as the Tilopa or Anja is also available if you want something that is a bit smaller. It all depends on your needs and how much gear you want to carry.
ICU's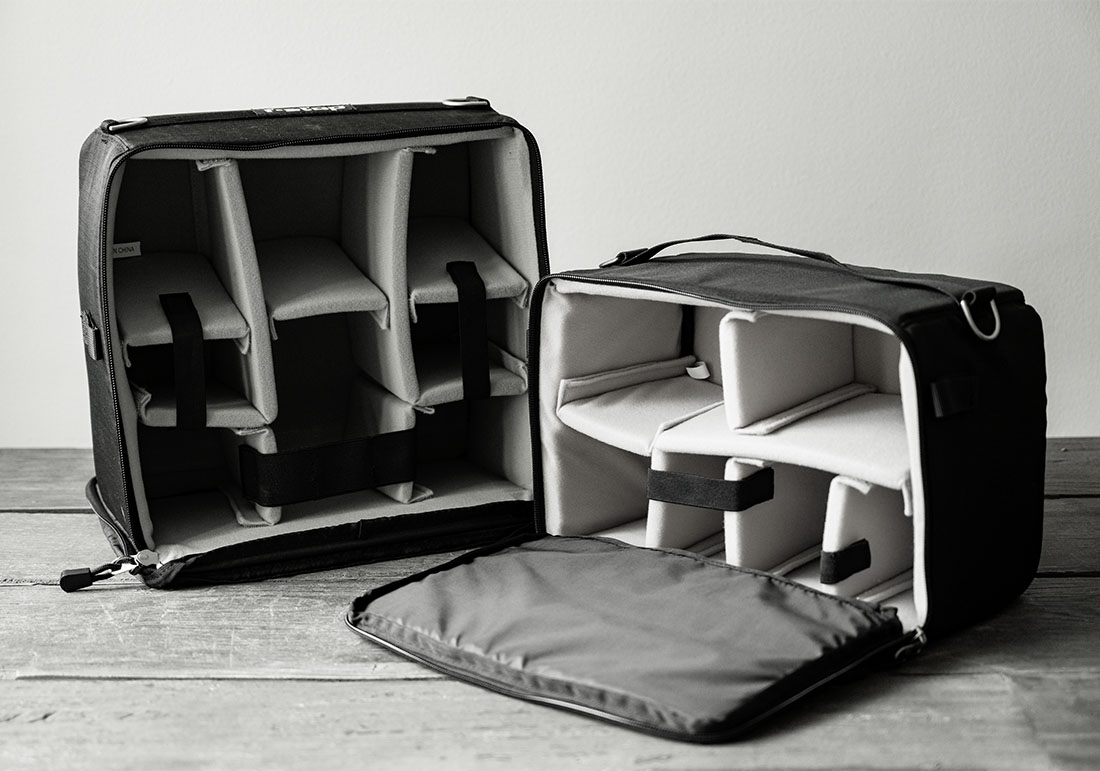 Internal Camera Units, better known as ICU's help you to arrange your camera bag so that the space available is fully optimized while protecting your gear. ICU's come down to personal preference and your specific needs.
The different ICU models, and sizes (available from small to extra-large) allows you to choose one, or multiple ICUs according to your needs. This means that you only require only one bag, regardless of where you are heading. Simply exchange the ICUs to suit your specific requirements.
With the SUKHA model, I use the Pro XL ICU most frequently as it fits snugly in the 70 liters bag. Depending on where I am headed, I often exchange the extra-large ICU for multiple smaller ones that I can stack. In example, I might use the small and medium ICU's to provide a separate space specifically for my filters or drone.
Packing for traveling
Before I start packing, I need to know what type of shoot I'll be doing, where I am going and for how long. Based on this, I will choose the necessary equipment and start arranging my bag.
For a landscape adventure trip, I carry 2 Nikon bodies, a Zeiss Milvus 15mm ultra wide-angle lens, a medium focal length such the Zeiss Milvus 50mm and a 135mm telephoto by Zeiss or 70-200mm by Nikkor. Of course, for landscape photography, having a set of ND filters including the system with a couple of rings from Nisi Filters and the DJI Mavic 2 pro with controller is essential. Lastly, and quite important not to forget, batteries. All these items easily fit inside the Pro XL ICU.
As per the international airline rules, lithium batteries must be packed in your carry-on luggage. I usually pack 4-6 batteries along with the DJI Mavic 2 lithium batteries inside a lipo battery case for safety.
My 15' MacBook slides inside the dedicated laptop space in the backpack but I remove during checking in. I hold the laptop till I am through security in case they ask me to weigh the bag. You'd be amazed at what a difference this makes in your bag's weight!
The rest of my accessories such as the tripod, ball-head, chargers, cables, tools, etc. go inside check-in luggage along with my clothes and other personal items. Once I'm finished packing, the most valuable items that can easily be damaged is carried with me as hand luggage.
In the last couple of years, I have done hundreds of trips and there was not a single International flight where my Sukha bag did not fit in the overhead compartment. The only problem that I have faced was my bag being overweight…
Packing for day-to-day shooting
During my weekly photoshoots in Dubai, I don't have a weight restriction to the bag, except for having to carry it myself. On the other hand, I don't require all the gear that I carry with me when I travel. For day-to-day shooting, I use the Nikkor Tilt-Shift lens as the primary lens for cityscapes and architectural photography. I also carry the Zeiss Milvus 15mm, Otus 28mm, 70-200mm by Nikkor and Nissi filters with me.
This is where I benefit the most from stacking different ICU's together. I can arrange them so that I have extra space for hiking equipment or a dedicated compartment for certain products such as my drone or filters.
The accessory pouch is great when it comes to organizing the little important things such as your ever-expanding collection of chargers, cables and other essential tools. I don't leave the accessory pouch in my bag when I travel to reduce the weight, but it's a great way to keep odds and ends that you occasionally require organized. Like all of f-stop Gear's products, the pouch is very durable and the padding inside helps ensure its content is protected.
Lastly, I use the ICU gate to help me maximize the efficiency of what I carry and keep my small bits and pieces gathered. I find it especially handy for my batteries, keys and memory card holder, among other things. This way I know that these items are protected and I don't have to dig through the entire bag to find something.
Learning to pack my camera bag in an efficient manner has come through many years of trial and error. During my journey, I've been through numerous brands, but nothing quite met all my needs. That is why I love f-stop Gear's products so much: I have only one camera bag and the flexibility to change my bag's interior layout to fit my everchanging needs. It is definitely a must-have for any photographer.
Medium Slope ICU - Daily use
Small ICU - Easy to access the filters and protected
A dedicated compartment for Laptop or Ipad
Tripod attachment solution
Pro ICU XL - the ultimate storage for traveling
Small ICU - Easy to modified the internal components and add all type of Filters kits
A dedicated storage for the Dji Mavic 2 Pro
CF Wallet for memory cards
Drone storage easily access